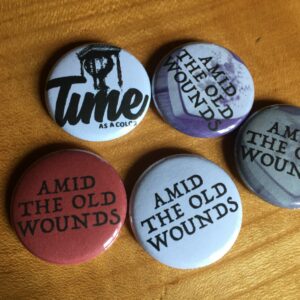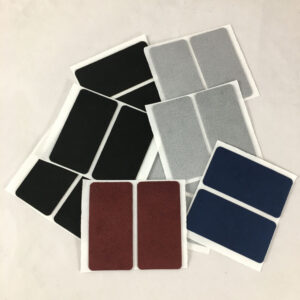 when I started being in bands one thing you HAD to have on your merch table were buttons. badges, pins, whatever you call them. so now your band/label/distro can be cool like in the early 2000's again by getting a bunch of these. ORDER HERE
good news for all my american customers, from september 15th I can post smaller stuff to the US again. these will however go via sea mail, please be aware it will take longer than usual (4-5 weeks to reach the east coast)
after being in the mail from the US for quite a bit I finally have tricktape in stock! these are vegan friendly synthetic suede patches meant to repair/cover worn areas of skateshoes, however of course you can repair any other type of shoes as well. please check these out HERE
furthermore a few records have been added to the distro from handstand records:
kissed by an animal – s/t LP
Crunchy power chords, big hooks, and searing guitar leads, all sprinkled with some chewy bits of sonic weirdness make this release a charming and strangely familiar listen
lytic – one sided LP
New York City's fourth most popular screamo/grind duo. Ex-members of Saetia, Off Minor, Daesu. Three epic tracks on a single-sided slab of white vinyl, with an embossed cover and crazy etching on the flipside.
matte black – psyche LP
In the four years since the release of Dust of This Planet, Brooklyn all-wave trio Matte Black has been honing its sound into something more direct and organic than ever before.
lacing – without CD
dark shoegaze with dramatic post-rock swells and nuanced noisy outbursts. Ethereal vocals compliment the icy clean guitar lines in a series of swirling waves before the storm of dark hooks and trembling discord.
the 25% discount promotion during september and amid the old wounds test press raffle is still going until october 4th, if you missed that deal check september news!
new items mentioned on this page are excluded from the discount, sorry!
usually I only post news once a month, but this month is busy, so I hope you are cool with it being bi-monthly this time