out now: winter dust – unisono LP
"There are many layers within the music, but I wouldn't call it dense. It feels well balanced. Twinkling piano sits beside the distorted guitar. Overdriven intense passages are spaced out with reverberating breathing moments."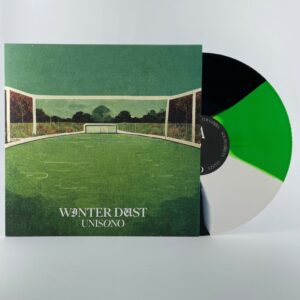 this is winter dust's first record sung in their native tongue, Italian. most songs are a bit shorter than on the band's former release "sense by erosion", but other than that the music stays within the same realm the band has successfully developed over the last years, as a mixture of post-rock and emo, with some mathy and hardcore influences and a raw, passionate urge that is unique.
"…the vocal delivery is so visceral. I picture Vezzaro delivering his searing call to arms as he cries out to the universe, shouting out to any who will listen. This is often what comes to mind as I listen to Winter Dust's music. The impassioned vocals of someone crying out to the void, with brilliant music that carries just as much power and emotion to match."
A while ago I received some classics from the 2000s as well as some newer records from adagio 830 records and earthwaterskyconnections, which have been added to the shop
daitro – vinyl collected LP
Frankenstein Red vinyl. This records contains the out of print stuff from the split LP w/ Sed Non Satiata, the split 7″ w/ Ampere and the 2 songs that were on the US tour 7″.
sed non satiata – mappo LP (restock)
No matter the approach to song structure, Sed Non Satiata are always able to combine equal parts consonance and dissonance, light and dark, beauty and discord, culminating in the emotional roller coaster.
2nd press on silver/red vinyl, gatefold sleeve
ghost bag – palindrome LP
Flirting with dreams of redemption, fatalistic sentiments echo throughout. Jongen is able to catch a glimpse of the outside world, while the door remains locked. A cynic might say this record is a testament of personal alienation made under trade-wind tropical rainforest weather conditions. In his own words…
browse all adagio 830 releases here
yage – anders leben!? LP
This is a very honest album, lyrically not imposing, but asking of themselves and us to look at our lives, our surroundings, culture, and to try to make a difference.
off minor – the heat death of the universe LP
In a blend of chaotic emotional intensity and precise beauty, Jamie Behar, Kevin Roche and Steve Roche find a realm of untouched hardcore catharsis. "The Heat Death of the Universe" Off Minor's first LP is a journey of heart felt monologues built around the difficulties of the respective band member's lives.
the kitty melodies / rain river ocean split LP
folky emoish indie from both bands on this classic german emo record