Description
camo blue
footprint kingfoam orthotic insoles provide dampening of up to 95% of impact energy. be it on a skateboard, snowboard, hiking or just a long day of work, after a few hours your feet may feel sore. depending on your specific type of feet, to be more precise if you have a low, mid or high arch, you may profit from some more dampening or and/or some more support
unlike game changers kingfoam orthotics are not heat moldable in the oven. they are made with a fluid in a chamber under your arch that dynamically adapts to each step, providing customizing arch support.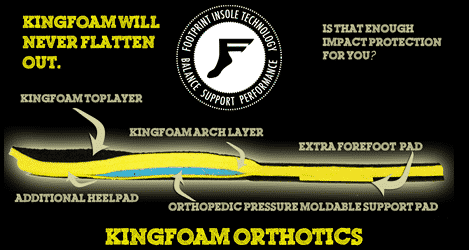 these low insoles are 3 mm thick, so they work best in shoes that came with similarly thick insoles. if your shoes came with very thick insoles you can still put 3 mm soles inside, but your shoes will fit bigger (possibly too big). if that may be an issue please get the 5 mm insoles instead (that's the dark orange camo variant I sadly don't stock at the moment). game changers or orthotic insoles are recommended if you have a low to mid arch. if you have a high arch please consider getting some kingfoam flat insoles
kingfoam is patented material that looks like any other foamy insole, but here's how it works:
KINGFOAM ORTHOTICS
Reacts and adapts to each step
Stable support at the moment of impact
Feels like a cloud under your feet
Adapts to your unique arch shape
For constantly firm custom arch support, try Gamechangers.